OPEN 7 DAYS A WEEK FROM 10AM TO 2AM
New Outdoor Terrace & Bar Coming April 2020
November 20, 2019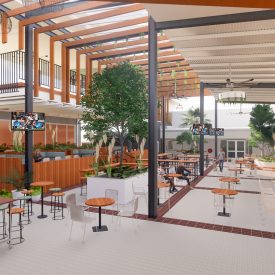 Coming in April 2020
Message from our CEO, Justin Wilkins:
We will be transferring the Garden Bar, which I hated calling it that as had 6 pot plants which hardly justified its name, into something special that Townsville suburbia doesn't have. Demolition has started and if all goes to plan, we will open in early April 2020.
We will have a new bar with 26 taps pouring beer, wine, spirits and cocktails and a new kitchen that will provide a different offering to what we currently provide in Circa 20 Restaurant and QUBE Cafe. The proposed menu will consist of tapas plates, wood-fired grilled meats, upmarket mains and sides, gourmet pizzas and desserts. In addition to this we will have a roof top bar which will extend over the top of the existing grandstand.
Unlike the current Garden Bar, which is only open for football and the odd function, the new area will be open from Wednesday to Sunday nights and lunch Friday, Saturday and Sunday with the aim to eventually have it open 7 days. We are currently in the process of sourcing a massive TV, which if you can't make it to the new stadium, will make it the best place in town to watch Cowboys games and other sporting events.
I hope you our members are as excited as I am about this new venture for the club.
Regards,
Justin Wilkins CEO.