OPEN 7 DAYS A WEEK FROM 10AM TO 2AM
Compete in the 2020 Australian Esports League at Brothers
February 26, 2020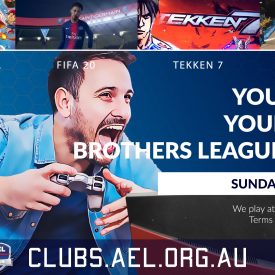 We kicked off our first week of competition in the 2020 AEL Clubs League on Sunday! Congratulations to our 4 winners and 4 runners up who won $50 and $30 prizes respectively.
Do you think you have what it takes to win? Test yourself every Sunday at Brothers!
$25,000 prize pool

Super Smash Bro's Ultimate, Tekken 7, FIFA 20 and NBA 2k20
The AEL Clubs league is a national grassroots program to support and build local esports communities across Australia in a well-structured tournament anchored by weekly tournaments.