OPEN 7 DAYS A WEEK FROM 10AM TO 2AM
Townsville Three-Day Lockdown Closure
June 29, 2021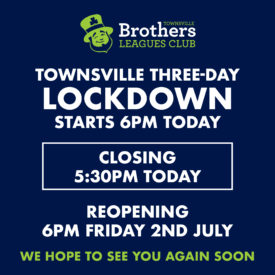 From 6pm today until 6pm Friday 2 July, Townsville residents can only leave home for essential reasons. Cafes, pubs and restaurants will not be open for dining in. Brothers Leagues Club and Kirwan Sports Club will close from 5:30pm today and reopen at 6pm Friday 2 July.
Clover Rewards Draw and Membership Draw will be rescheduled to a future date.
We will provide another update pending a review of restrictions on Friday morning.
Hope to see you again soon!